These tumours arise from cells called astrocytes which are found within the brain and mostly within the substance called "white matter". These tumours are rarely discrete lumps. They often display tentacles of tumour that can infiltrate the brain.
They can arise as a slow growing variety or a malignant form. In order to differentiate the types, we have a grading system based on what the tumour cells and tissue look like under a microscope.
Grade I – Pilocytic astrocytoma. Mostly benign tumours that occur almost exclusively in children and young adults.
Grade II – Low grade astrocytoma. Average age at diagnosis is 35 years. Slow growing tumour. These tumours can progress to a more malignant form after some years.
Grade III – Anaplastic astrocytoma. Average age at diagnosis is 45 years. Faster growing than grade IIs. These tumours usually progress to a grade IV within a few years.
Grade IV – Glioblastoma Multiforme (GBM). Very aggressive, fast growing malignant tumour. Average age at diagnosis is 55 years. GBMs often arise from low grade astrocytomas but may also spontaneously arise as a GBM.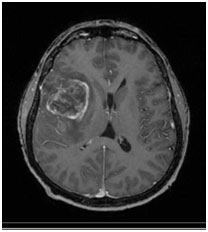 Glioblastoma Multiforme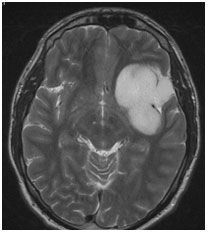 Low grade astrocytoma
Other Gliomas